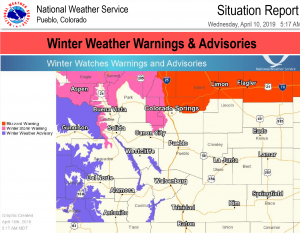 UCCS will close early April 10 in anticipation of forecasted weather conditions.
All classes and activities are cancelled after 12:15 p.m. Classes that are still in progress at 12:15 p.m. may meet for the first part of the class period, but must end at 12:15 p.m.
Campus will close at 1 p.m., and all afternoon and evening classes and activities are cancelled. The last shuttle to Lot 580 will leave central campus at 1:15 p.m.
Employees and students who live in the Monument, Black Forest and Falcon areas, as well as Teller County, are encouraged to use their discretion if they need to leave sooner. Work with your faculty or supervisor to discuss alternatives.
On-campus students living in the residence halls will have access to dining in the Lodge and Roaring Fork Dining Hall until 7 p.m. All other dining areas and buildings will close at 1 p.m.
Additional messaging will be sent through the UCCS Alerts system if conditions change faster than forecasted and require an earlier closure.